Myopia control using spectacle lenses is a common way to control myopia progression. Essilor recently came out with their version of myopia control lens called Stellest , which could be another great alternative to Ortho K . This is in addition to other myopia control lens in Singapore : Zeiss MyoVision Pro, Zeiss MyoVision Kids, Hoya Miyosmart, Essilor Myopilux Plus and Essilor Myopilux Max. To read more on these myopia control lenses, click here.
Essilor Stellest

依視路 星趣控
Just last June, Essilor launched a new myopia control lens, Stellest, in Wenzhou Medical University Eye Hospital in China. Essilor mentioned that Stellest is a new generation of spectacle lens solutions in the fight against myopia.
Many parents and children have given positive feedbacks about Stellest. Essilor have spent more than 30 years of studies and research to design Stellest lens which uses H.A.L.T technology (Highly Aspheral Lenslet Target).
Essilor Stellest is also granted the Breakthrough Device designation by FDA. This recognition allows Essilor to be able to pursue further testing and research related to myopia management.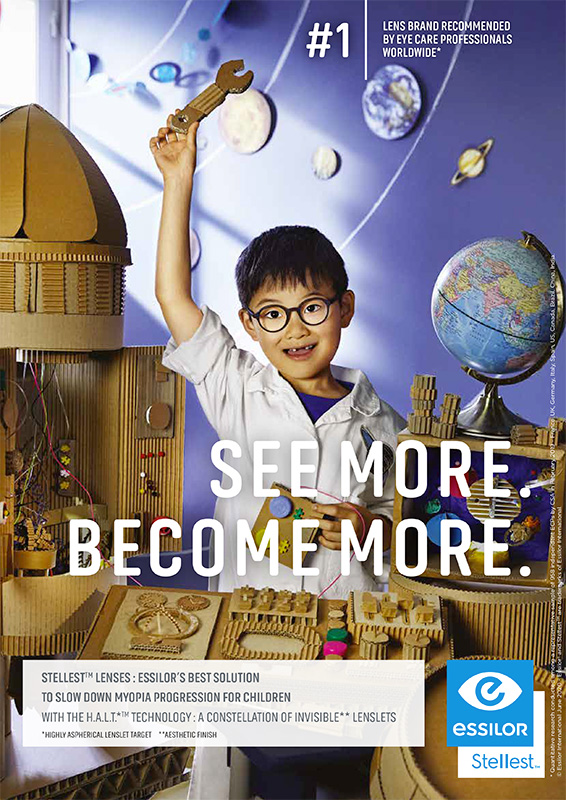 Key findings for Stellest
The ongoing state-of-the-art three-year clinical trial on 167 myopic children started in 2018 in Essilor's joint Research and Development Center with its key partner, the Wenzhou Medical University, in China.
One year interim results are:
Stellest is able to slow down myopia progression by 67% on average as compared to children wearing normal single vision lenses, when worn at least 12 hours a day. (Saved 0.99 diopters of myopia on average)
Prevented eye elongation in 28% of the children wearing Stellest lenses while eye elongation takes place in children wearing normal single vision lenses. (The more the eye elongates, the higher the myopia)
100% of children wearing Essilor Stellest™ lenses had clear vision, 100% of children adapted to their new lenses within a week; 91% of children fully adapted within three days; and 94% of children felt comfortable with Essilor Stellest™ lenses, demonstrating that Essilor Stellest™ lenses were comfortable, and easy to adapt for children
Results after 1 year:
Eye growth of 9 out of 10 children wearing Essilor Stellest™ lenses was similar or slower than non-myopic children.
2 out of 3 children who wore Essilor Stellest™ lenses did not need a prescription change after the first year
Essilor mentioned that the one-year results already demonstrate strong evidence of the lenses' effectiveness in slowing down myopia progression In addition, they also promise that Stellest will be an aesthetic, efficient, safe, simple and easy to prescribe solution to control myopia in children.
Norbert Gorny, Co-Chief Operating Officer, Essilor International said that the The interim results are impressive, confirming the positive impact of this solution on myopic children and making us fully confident that the Stellest™ lens will be one of the most effective myopia control spectacle lenses in the world.
Grita Loebsack, Group Chief Marketing Officer, Essilor International said, "We are excited to start offering this new solution to help children who continue to be at risk of vision-threatening complications due to high myopia. The Stellest™ lens has already received extremely positive response from eye care professionals. This reaffirms our leadership in the myopia management category and brings us closer to achieving our vision of reducing the impact of high myopia and ensuring a brighter future for our children. We are also proud to support WSPOS and showcase our long-standing commitment and expertise in reducing the threat of myopia at such an international and renowned forum. We truly believe that strong partnerships allow us to achieve far more than we could achieve alone."
Lens Design
To control myopia control, Stellest lens is designed by H.A.L.T Technology (Highly Aspheral Lenslet Target). It is designed by Essilor's industry-leading research and development teams. They have spent more than 30 years of studies, research, design and collaboration with top research institutes and myopia experts.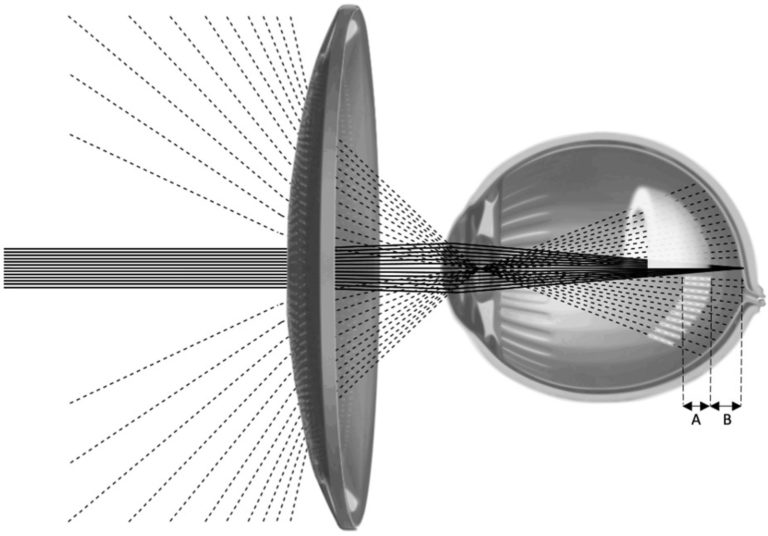 Essilor explained that H.A.L.T Technology consist of a constellation of aspherical lenslets on 11 rings. It is able to provide clear vision through a central single vision zone while controlling the child's myopia progression. The power on the rings will create signals in front of the retina (a layer on the back part of the eye) to slow down elongation of the eye. Hence, slowing down the child's myopia progression.
The image below shows a pair of Stellest lens: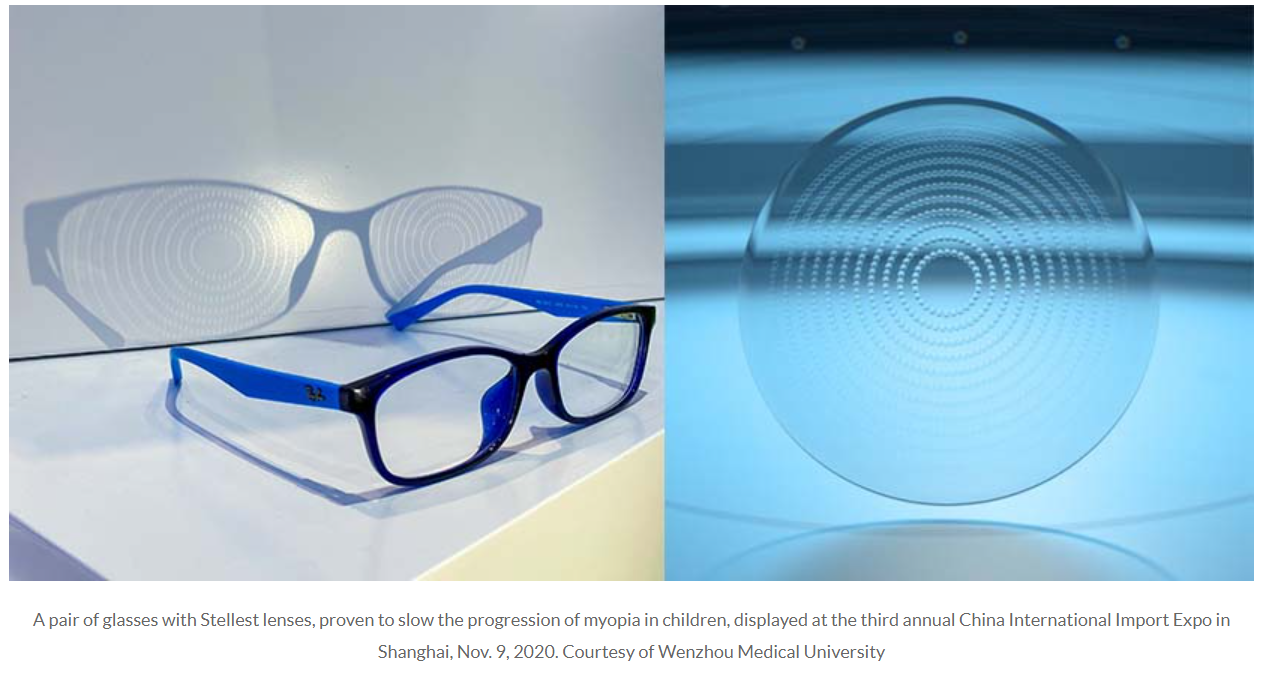 Essilor Stellest is slated for launch in Singapore in the second half of 2021 . To find out more about the features of Essilor Stellest, click here.
Book an appointment with us or WhatsApp us at +6588461234 to find out if your child needs Stellest lenses.
References
Essilor's Game-Changing Stellest Lens Shown To Slow Down Myopia Progression In Children By More Than 60%, After One Year Interim Clinical Trial. 2020. Essilor.
Bao J, Yang A, Huang Y, et al. (2021). One-year myopia control efficacy of spectacle lenses with aspherical lenslets. British Journal of Ophthalmology, 0, 1-6.