ZEISS BlueGuard Lenses
ZEISS BlueGuard is the new generation of blue light protection lenses from ZEISS . It's being launched and will be available in Singapore from 1st April 2021 . Developed to address today's "New Normal" technology and media use , ZEISS BLueGuard is the new and improved blue light protection lenses compared to ZEISS Blue Protect which was launched few years back.
What is ZEISS BlueGuard
According to ZEISS ,
"Using the latest organic-chemical technology, ZEISS BlueGuard Lenses are an "in-material" solution, blocking up to 40% of potentially harmful blue light in the wavelength between 400 and 455 nanometer (nm). Based on proven UVProtect technology, ZEISS BlueGuard Lenses additionally ensure full protection from ultraviolet radiation(UV) up to 400 nm."
What are the main benefits of ZEISS BlueGuard
More Protection
ZEISS BlueGuard Lenses block up to 40 percent of potentially harmful blue light in the wavelength between 400 and 455nm. Based on proven UVProtect technology, ZEISS lenses additionally ensure full UV protection up to 400nm.
Prevent Digital Eye Strain when using digital devices
Excessive near work and blue light from 400nm to 455nm can intensify symptoms of digital eye strain. By reducing glare, our new material-based approach contributes to preventing strain on the eyes and provides comfortable, relaxed vision and increased contrast, explained Dr. Christian Lappe, Director Technical Communication at ZEISS .

Less Reflection and more cosmetically appealing
Many blue light blocking lenses has very intense and irritating blue light reflection off the surface of the lenses. Such reflections can be distracting to the wearer and can also be cosmetically unappealing to the observer .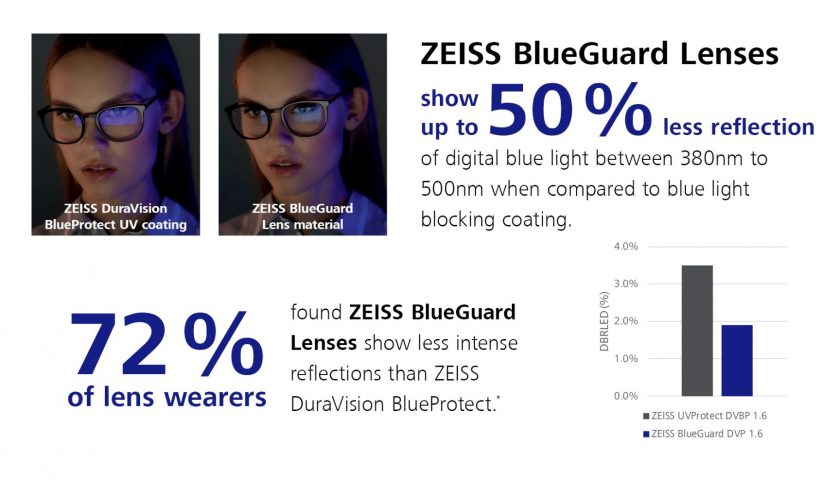 ZEISS BlueGuard lenses addresses these problem by incorporating blue light blocking properties into the lens material. Irritating digital blue light reflections are reduced by up to 50 percent. The result is high lens clarity with significantly lower visible reflections of digital blue light.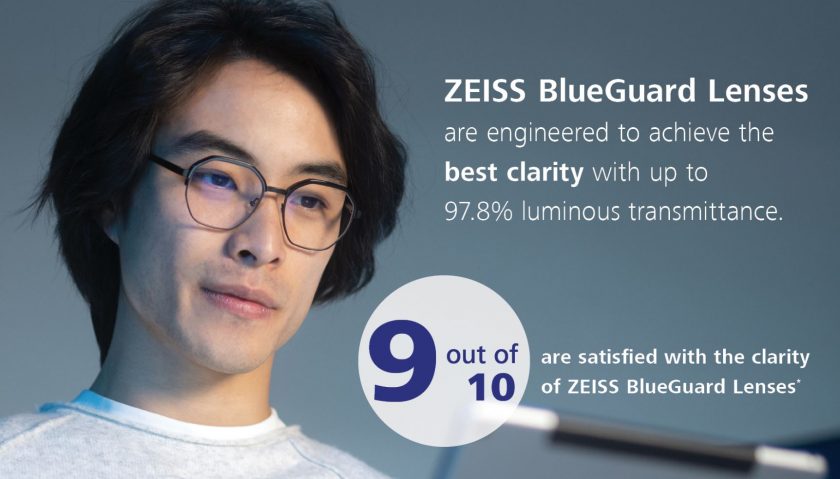 ZEISS BlueGuard is suitable for all ages and available for the entire ZEISS portfolio of clear lenses.
Check out our latest promotions for ZEISS BlueGuard promotions coming 1st April 2021.
Read more about ZEISS Blue Guard
ZEISS BlueGuard official press release