Hoya MiYOSMART – Myopia Control lens
Hoya MiYOSMART (available at Evershine Optical) is the latest solution for myopia control developed by Hoya and Hong Kong Polytechnic University. It is proven to curb myopia progression by up to 59% and stop myopia progression up by to 21% with a new technology, D.I.M.S Technology. MiYOSMART is suitable for kids from 6 to 18 years old. MiYOSMART could be an excellent alternative to Ortho K (orthokeratology) lens , especially younger kids.

Features of Hoya MiYOSMART
How do Hoya MiYOSMART lenses work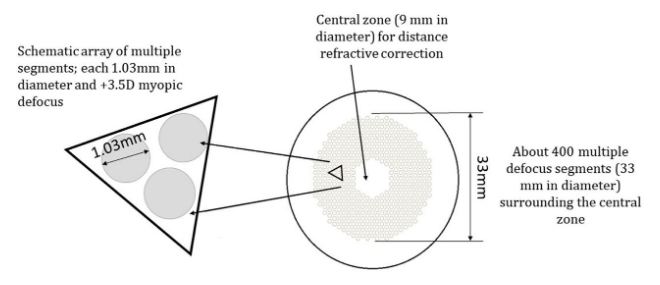 D.I.M.S Technology
Defocus Incorporated Mutliple Segment (D.I.M.S) is an international award-winning technology.
MiYOSMART with D.I.M.S technology is a single vision lens with hundreds of small segments of constant myopic defocus evenly distributed (honeycomb structure) at the peripheral portion of the lenses.
At the centre 9.4mm will be clear vision for all viewing distances and there will be about 400 defocus segments surrounding the central zone.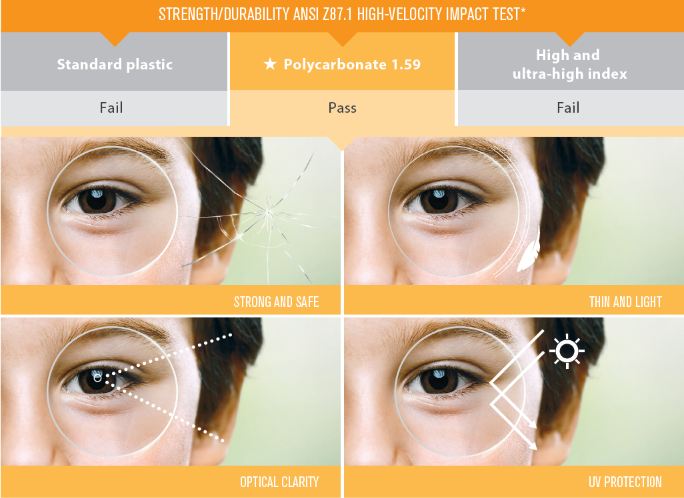 Eye Shield
MiYOSMART uses polycarbonate 1.59, a highly impact-resistant material that is safe for active kids and also thin and light.
It also provides UV protection.

MiYOSMART Coating
MiYOSMART lens is easy to wear and maintain.
It has water-repellent and anti-reflective coating.
Why choose Hoya MiYOSMART?
MiYOSMART is an non-invasive myopia control method, which eliminates risk of infections unlike other myopia control managements such as contact lenses.
It is the newest solution to myopia management and is proven to be effective in slowing myopia progression by up to 59% with no side effect. It's effectiveness is the highest as compared to other myopia control spectacles lenses.
Other than it's high effectiveness, MiYOSMART lens is also more durable and safer for kids as Hoya uses polycarbonate, an impact-resistant material for MiYOSMART. Also, the lens is easy to wipe due to low maintenance multi-coating.
Effectiveness
Safe & Non-invasive
Distortion free
Low maintenance
Minimum adaptation
Good aesthetics
MiYOSMART
(Hoya)
59%
✔️
✔️
✔️
✔️
✔️
MyoVision Pro
(Zeiss)
30%
✔️
✖️
✔️
✔️
✔️
MyoKids
(Zeiss)
30%
✔️
✖️
✔️
✖️
✔️
Myopilux Plus
(Essilor)
39%
✔️
✖️
✔️
✖️
✔️
Myopilux Max
(Essilor)
51%
✔️
✖️
✔️
✖️
✖️
Stellest
(Essilor)
67%
✔️
✔️
✔️
✔️
(Hoya, 2020)
Why is there a need to start myopia control early when your child have myopia?
Young children with hyperopic refractive error (far sightedness) have more than 80% chances of becoming myopic by the age of 13. The table below shows hyperopic children with risks of becoming myopic by 13 years old.

Based on a study done in 2005, children at the age of 6-7 have a mean myopia progression of -2.21 diopters in 3 years. As compared to other age groups, children aged 6 to 7 years old have the fastest myopia progression
This concludes that children with myopia at a younger age have faster progression (Hyman L, et al. 2005) as they have more years for the myopia to progress.
The diagram above shows that every diopter (100 degree) increase in myopia, will increase the chances of your child developing eye diseases such as myopia macular degeneration and more in the future. These eye diseases will affect his vision and can even cause vision loss in the future.
The graph (using BHVI Myopia Calculator) below shows an estimated refractive error of a 6 year old child with myopia of -1.00D with and without myopia control management: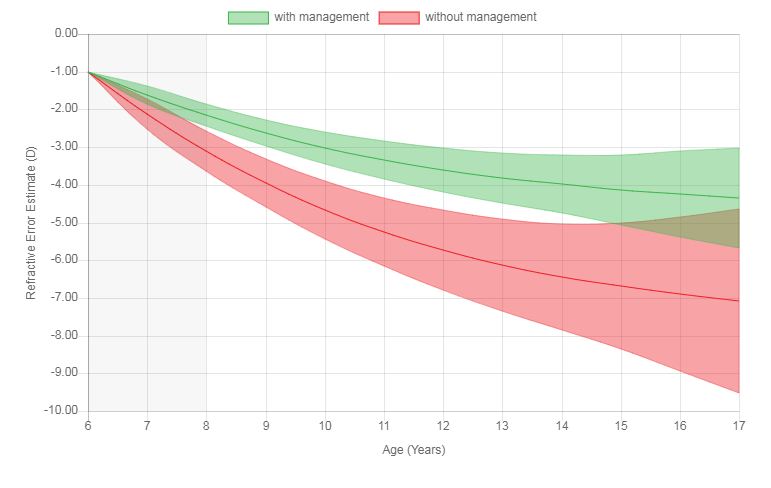 With myopia management, the rate of myopia progression is slower as compared to without myopia management. This reduce the chances of the child developing to high myopia in the future, which will then lower the risks of developing eye disease when he / she is older.
Hence, it is important to start myopia control early when the child have myopia.
How to adapt to MiYOSMART?
The adaptation period for every child is different, new wearers are expected to take about 1-2 weeks to adapt.
During the adaptation period, the child should avoid physical activities and vigorous sports such as soccer, operating any kind of vehicles such as bicycles, or using the new lenses in places with different heights such as climbing.
What to expect during the 1st visit @ Evershine Optical if you choose to get MiYOSMART for your child?
We will need to understand about your child visual needs, lifestyles, eye conditions and more.
A comprehensive eye examination in the following will be conducted by our optometrist:
Refraction test

Objective and Subjective refraction
To check power of the eye

Eye health check

To assess health of front and back part of the eyes

Binocular vision test

To check the alignment, strength, flexibility and focusing ability of the eyes

Colour Vision Test

To test if your child have colour blindness

Intraocular Pressure

To examine the pressure of the eye
Due to the lens' unique design, it will take 2 weeks for the lenses to arrive.
After getting the new pair of spectacle, we will do a follow up 2 weeks later to check your child's visual clarity at different viewing distances and check up on how your child is adapting and performing with MiyoSmart.
An eye examination will also be conducted on your child once every 6 months to monitor on their myopia progression.
How much is MiYOSMART Lenses
MiYOSMART lenses cost $530 per pair . As Evershine Optical is part of Hoya myopia management program, there will be a complimentary pair of HOYA single-vision lenses (up to $240 in value) provided for your child with every pair of MiYOSMART lenses purchased. This is because Hoya understands the likelihood of children misplacing and breaking their belongings. The pair of single-vision lenses will act as a back-up pair in case of unforseen circumstances.
Book an appointment with our optometrist today. Whatsapp or call +6588461234.
Read about the different methods of Myopia control here
References
Nixon A, Brennan N. (2020). Managing Myopia: A Clinical Response to Growing Epidemic.
BHVI Calculator, based on Asian Ethnicity starting -1.00D myopia at age 6. Comparing no myopia management with bifocal management.
Cheng D, Woo G.C, Drobe B. et al. (2014). Effect of bifocal and prismatic bifocal spectacles on myopia progression in children: three-year results of a randomized clinical trial. JAMA Ophthalmol, 132, 258-64.
HOYA. (2019). MiYOSMART. HOYA.
Hyman L, Gwiazda J, Hussein M, et al. (2005). Relationship of Age, Sex, and Ethnicity With Myopia Progression and Axial Elongation in the Correction of Myopia Evaluation Trial. Arch Ophthalmol, 123(7), 977-987.
Mutti D.O, Hayes J.R, Mitchell G.L, et al. (2007). Refractive Error, Axial Length, and Relative Peripheral Refractive Error before and after the Onset of Myopia. Invest Ophthalmol Vis Sci, 48(6), 2510-2519.
Lam CSY, Tang WC, Tse DY, et al. (2020). Defocus Incorporated Multiple Segments (DIMS) spectacle lenses slow myopia progression: a 2-year randomised clinical trial. British Journal of Ophthalmology, 104, 363-368.