The ever-changing environment and your behaviour can push your lenses to the limit. To address this concern, Essilor launched their new products, Crizal Sapphire HR and Crizal Rock, which are available at Evershine Optical.
Crizal Sapphire HR

Essilor's Latest Innovation In Anti-Reflective Coating
Every day, your eyes witness the frantic rhythm of your daily routine and make you discover what life is about. Daily aggressions can alter eyeglass wearers vision clarity and vision comfort.
Crizal Sapphire HR, the best of Crizal coatings that provides transparency, durability, and ease of care of the lenses.
Features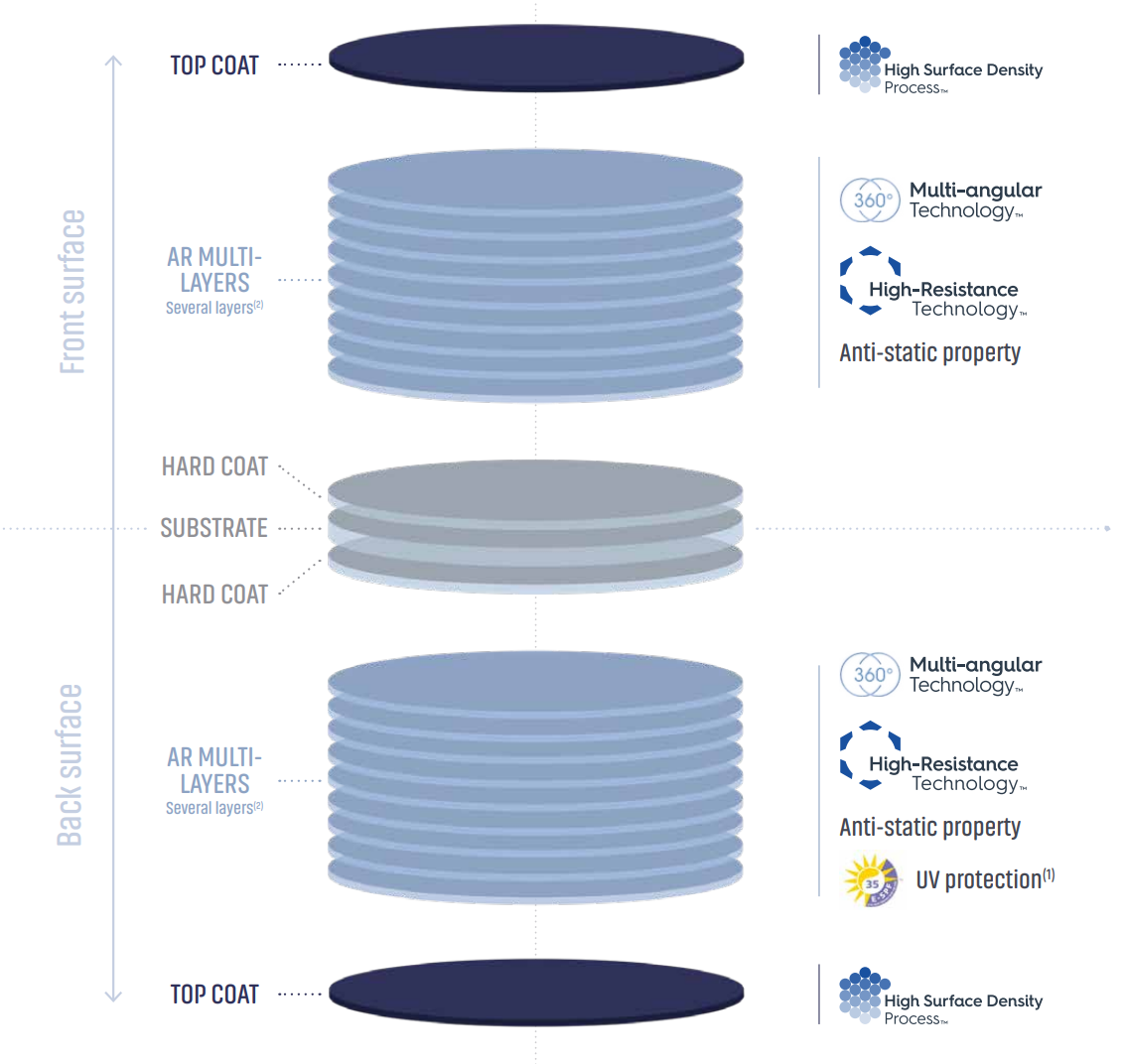 Benefits
Crizal® Sapphire™ HR coating combines all of Crizal®'s benefits (i.e. 360° reduction of reflections, ease of cleaning, dust and water repellence and UV protection) with a strong improvement on scratch resistance and durability.
This all-in-one solution allows the lenses to stay clear and clean in the long run.
Absolute Transparency

Reducing visible light reflections at 360° all around you for a vision relieved from light parasitics.

Durable Resistance

Enduring scratch resistance against everyday handling such as wiping or dropping your eyeglasses.

Easiness-To-Clean

Repelling water & dust, resisting to smudges for a lens that stays as clear as the first day you bought them 1

UV Protection

Offering the most comprehensive daily protection against the invisible and often irreversible dangers of UV reflection.
The Crizal Lifeproof Multi-Test
Essilor has developed a thorough protocol to reinforce its testing methods, the Crizal Lifeproof multi-test. The performance of Crizal® Sapphire™ HR has been assessed under all conditions:
Anti-reflective efficiency: best-in-class transparency perceived by experts through a sensory analysis2.
Scratch resistance: superior scratch resistance vs previous generation after 12 months of wear in real-life3.
Easiness-to-clean: easy-to-clean after extensive smudging and 20,000 cleaning rubs4.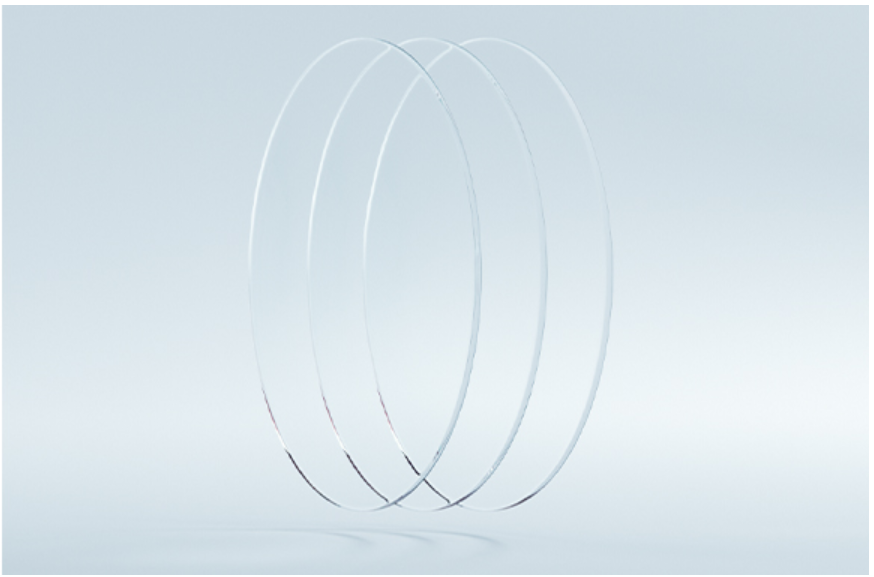 Crizal Rock

Durability Like Never Before
Life can be hectic. You need lenses that can keep up, resisting the scratches and smudges of everyday life. From knocking your glasses off the table (again) to forgetting your cases to cleaning your lenses with your clothes, you put your glasses through a lot, and you deserve lenses that won't damage easily.
Introducing Crizal Rock, Essilor's most scratch-resistant no-glare lens.1 Combining Essilor's signature Crizal anti-reflective coating with their best scratch- and smudge-resistant technology,2 Crizal Rock can do what many no-glare lenses won't—offer an anti-reflective coating with unmatched durability..
Superior Scratch-Resistance
Featuring Essilor's innovative High-Resistance Technology™, a combination of specific oxides proven to resist dust and scratches.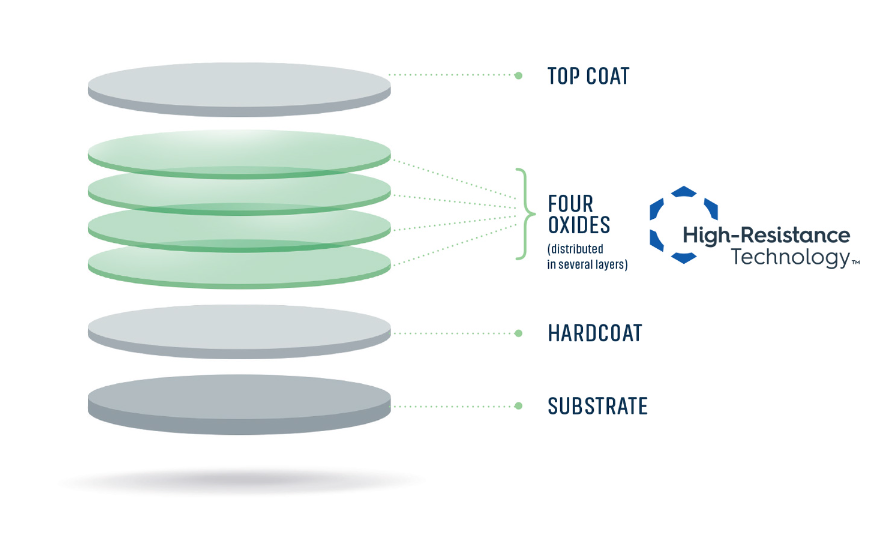 The High Surface Density™ Super Hydrophobic topcoat provides exceptional smudge resistance while making lenses easy to clean.
The Anti-Particulate Layer actively repels particles, dust, and dirt at a molecular level, keeping the lenses cleaner longer.
Lenses Designed For Real Life
Torture Test
Essilor developed a robust testing protocol to assess lens resistance to scratches and smudges, along with daily wear and tear.

Crizal Rock lenses are 3X more scratch-resistant than entry-level Crizal lenses3 and 2X easier to clean than their main competitors.4

The table below compares the benefits between Crizal Rock and other Crizal coatings.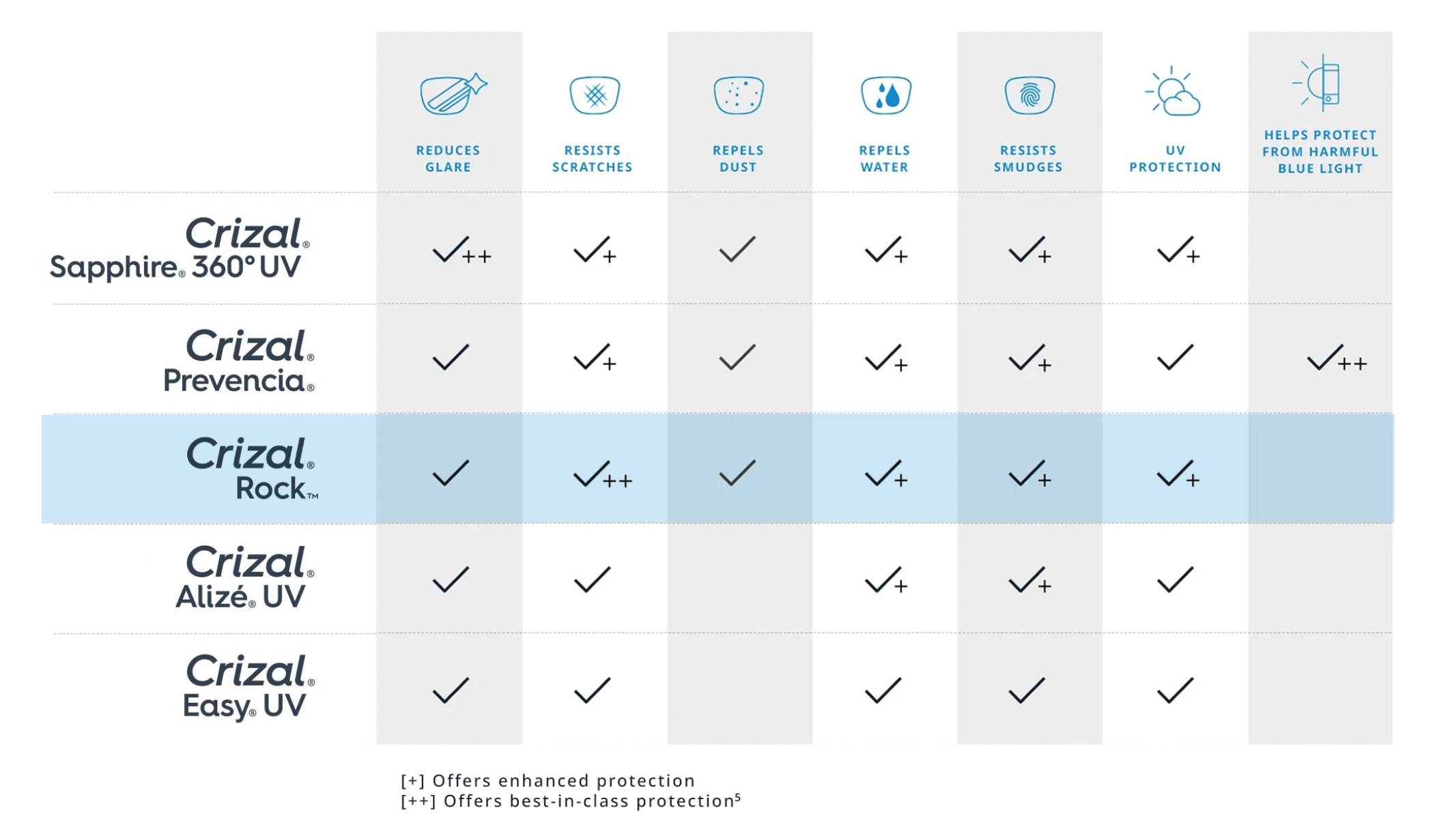 Crizal® Sapphire™ HR (available as a premium add on), the best of Crizal coatings that provides transparency, durability and ease of care of the lenses while Crizal® Rock™   ( available as standard RX coating) is their most scratch-resistant no-glare lens. Both are available at Evershine Optical.
Book an appointment with us or whatsapp us at +6588461234 to get yours now!
References
Crizal Rock. Essilor.
Crizal Rock Lenses. Essilor.
Crizal Sapphire. Essilor.