Hoya MiYOSMART Review
Evershine Optical have been dispensing Hoya MiYOSMART as a myopia control lenses for about a year. In order to find out if it is as effective as it claims, our optometrists have been doing following up with our young patients to see if their myopia has progressed after wearing MiYOSMART lenses. . This is a short MiYOSMART review .
After analyzing the results of our MiYOSMART patients, we found out that:
None of our MiYOSMART patient have an increase in their myopia for the first 6 months
Nearly all of our MiYOSMART patients are able to adapt to MiyoSmart lenses in a day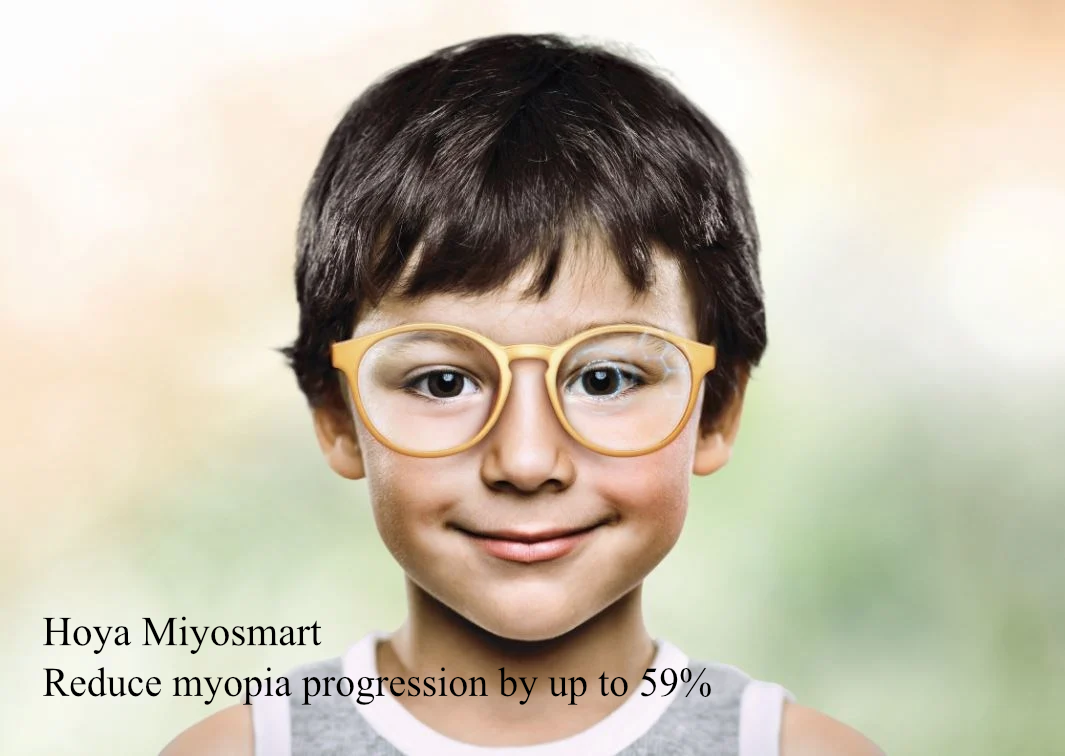 At Evershine Optical, we have fitted MiYOSMART on 28 (updated) young patients so far. These patients aged from 7 to 16 years old. Majority of them are 7 to 11 years old. Their myopia range from -1.00 diopters to -7.75 diopters. 80% of their myopia range from -1.00 diopters to -2.75 diopters. We try to implement myopia management for our young patients as early as possible when they have myopia in the hope that their myopia will not progress or progress less rapidly throughout their childhood years.
These patients have been coming back for follow up sessions to check their eyes. Based on our follow up visits, so far none of our MiYOSMART patients have an increase in myopia in the first 6 months.
Last year, we had a 8 year old boy visiting Evershine Optical. He experience blurry vision and had never worn glasses before. Upon checking his eyes, we found out that he have myopia of -3.50 on his right eye and -2.25 on his left. At his age, myopia progression tends to be faster and his myopia was already moderate.
According to BHVI Myopia Calculator, without myopia management, his myopia may increase up to -7.00 by the time he is 17 years old. Hence, we recommend MiYOSMART to his parents. It has been half a year since he's been using MiYOSMART. In his recent follow up session with us, there was no increase in his myopia so far.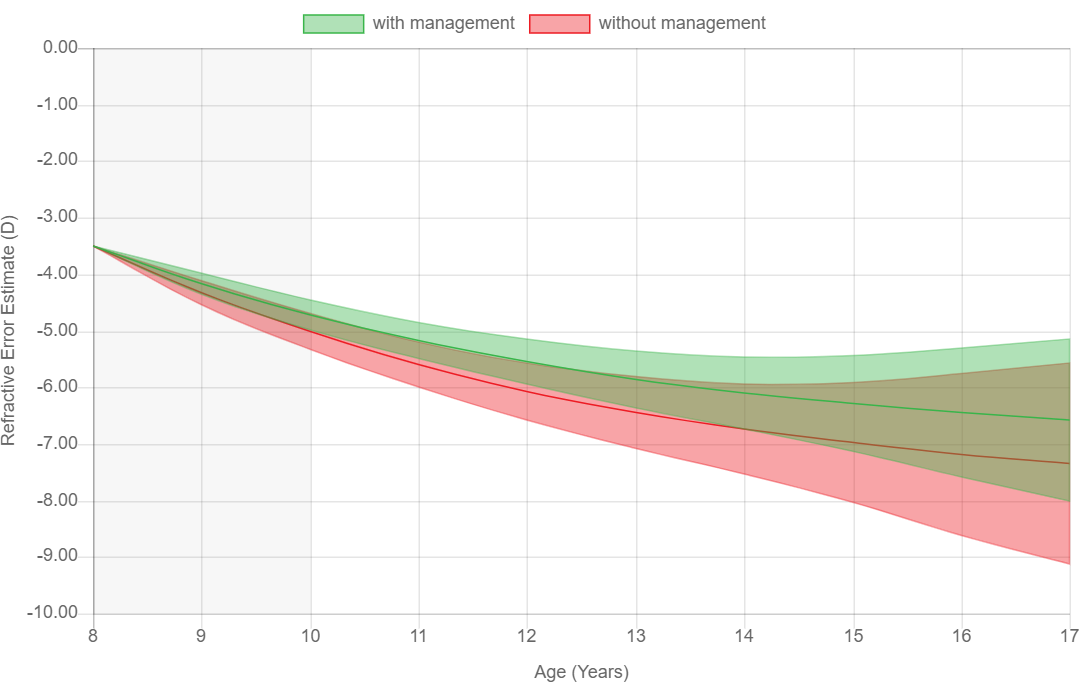 Concern about MiYOSMART lenses
A common question we often get from parents is whether the peripheral blur vision will affect their child.
MiYOSMART lenses uses myopic defocus to slow down the progression of myopia. Your child will have clear central vision but blurry peripheral vision. Parents are often worried about the blurriness on side of the lens. They often ask whether the blur peripheral vision will cause any inconvenience in their child's lifestyle.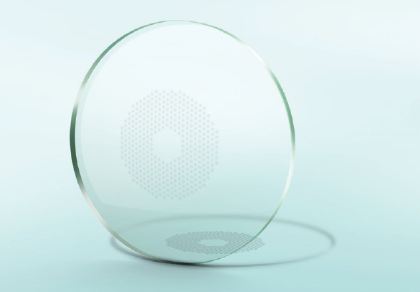 Fortunately, the blurriness will not be very obvious to your child. When we dispense MiYOSMART, we often ask our young patients whether they are able to see the blurry area when they look towards the side. Most of them feedback that they are able to see the blurry area but the blurriness is not obvious.
It usually takes about 1-2 weeks to adapt to MiYOSMART. However, most of our young patients can adapt to the MiYOSMART lenses once they put it on.
Since the blurriness is not obvious and adaptation period is short, the blur peripheral vision will usually not cause inconvenience for your child.
Hoya MiYOSMART
During our 2 weeks followup session, we always ask our patients to rate the performance of MiYOSMART from 1 to 5. 1 for poor performance to 5 for excellent. All of our young patient rate MiYOSMART 5/5 for ease of lens adaptation and overall performance.

Overall, our customers have been giving good reviews about MiYOSMART. They are able to adapt quickly to MiYOSMART lenses. As soon as they put on the spectacle, they are able to adapt to the lens. Most importantly, there is no increase in myopia among the MiYOSMART cases we have fitted currently. These results could show that MiyoSmart is effective and easy to adapt for most myopic children.
Hoya recently released results of their 3 year follow up on MiYOSMART. In this 3 year follow up study, there are 65 children from original group using MiYOSMART from previous study and 55 children who moved from using a single-vision lens for 2 years to the MiYOSMART lens in the third year.
Results during the 3rd year:
Original group of children using MiYOSMART: Myopia progression is slowed down.
Group of children who moved from single vision lens to MiYOSMART: Showed significant and immediate slow down in myopia progression.

More than 80% of these children had myopia progression of less than 0.50 diopters
70% showed progression of less than 0.25 diopter
This study provides further evidence that MiYOSMART can slow down myopia progression in children. In addition, it is also effective when myopic children start wearing MiYOSMART lenses at an older age (10-15 years old).
Despite the fact that MiYOSMART is also effective for children of older age, it is better to start early when your child have myopia to lower the chances of your child having high myopia in the future.
Is Hoya MiYOSMART worth it?
Myopia control lenses usually cost more than normal single vision lenses. The cost of Hoya MiYOSMART is $530 per pair with features of impact resistant material and high index lens (allows the lens to be thinner). It also comes with a complimentary pair of Hoya single vision lenses worth up to $240 for your child. Under Evershine Optical Myopia Management Program, we provide quarterly follow-up eye checks for 12 months to monitor your child's myopia. These follow-up eye checks cost $120 ($30 per session), included in the price of the lenses.
Other than it's features, it's high effectiveness (59%) and benefits such as fast adaptation makes MiYOSMART worth it. In our review and Hoya MiYOSMART 3 year study, MiYOSMART did show promising results in controlling myopia progression and the short amount of time needed to adapt to the lenses.
In addition, in a long run, without a highly effective myopia control method, you might be spending more on your child by needing to change their spectacles more often if their myopia progress rapidly.
To understand more about Hoya MiYOSMART, click here.
(Edit) Essilor will be launching Essilor Stellest myopia control spectacle lens in Singapore in the 2nd half of 2021. Their studies shows that Stellest can slow down myopia progression by up to 67%. This is good news for myopic children. Learn more about Stellest and see how it compares to MiYOSMART
This is NOT a sponsored article.
Book an appointment with us or WhatsApp us at +6588461234 to find out if your child needs Hoya MiYOSMART lenses.
Edited by Winston
References
BHVI Calculator, based on Asian Ethnicity starting -3.50D myopia at age 8.
Lam CSY, Tang WC, Lee PH, et al. (2020). Myopia control effect of defocus incorporated multiple segments (DIMS) spectacle lens in Chinese children: results of a 3-year follow-up study. British Journal of Ophthalmology, 0, 1-5.