ZEISS Photofusion Review
Photofusion lenses are lenses which will turn dark when exposed to UV lights and fade back to clear when back indoors. The actual term for Photofusion lens is Photochromatic lens, which is more commonly known as Transition (Essilor), Photofusion (ZEISS) or Sensity (Hoya).
Benefits of ZEISS Photofusion
Sunglasses helps to reduce glare for your eyes, however it will be too dark when you are indoors. Hence, you will need to keep switching between 2 pairs of glasses. With ZEISS Photofusion, this problem is solved. Other than reducing glare, it also:
Provide full UV protection
Provide blue light protection
Demonstrate excellent color consistency for natural sight
ZEISS Photofusion lenses darken very fast and fade back to clear up to 3 times faster than previous photochromic lenses from ZEISS.
Lenses darken to 16 % T in 15–30 seconds*.
Lenses fade back to 70 % T in 3-8 minutes*.
Clear state: 93% T*.
Dark state: 11% T*.
*The performance of the lens also depends on the material, temperature and light conditions.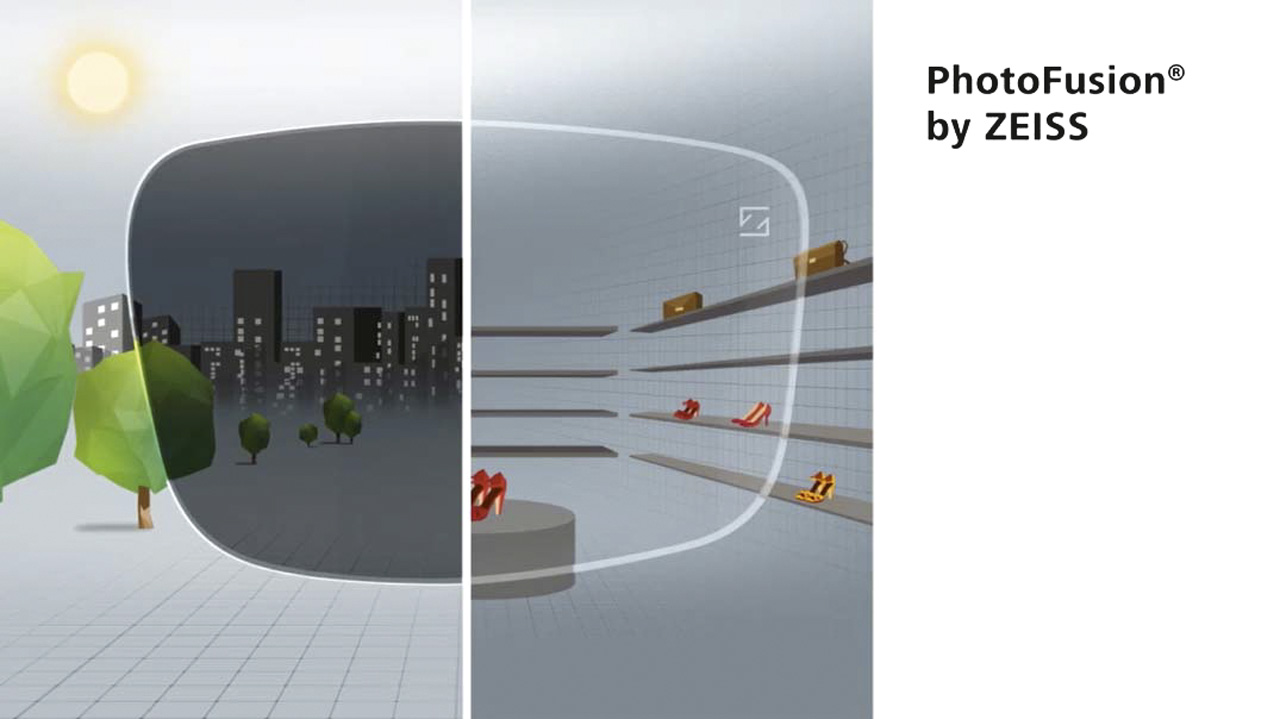 Who can benefit from ZEISS Photofusion
Almost everyone is suitable for ZEISS Photofusion, especially for people who are sensitive to light, elderlies, children who are on higher dose of atropine. Children who are on higher concentration of atropine may have symptoms such as sensitive to light due to their dilated pupils. Elderlies are usually more sensitive to light and want their eyes to be protected from the glare. ZEISS Photofusion lenses are able to reduce glare for them, allowing them to enjoy their outdoor activities.
ZEISS Photofusion can also be use as part of a fashion for your glasses for people who wants their glasses to be fashionable.
Colours available for ZEISS Photofusion
There are Grey, Brown and Extra Grey, Pioneer Green and Blue being the 3 new colours. ZEISS Photofusion lenses are available for most ZEISS lenses eg, Single Vision, Digital, Progressive and Sports lenses.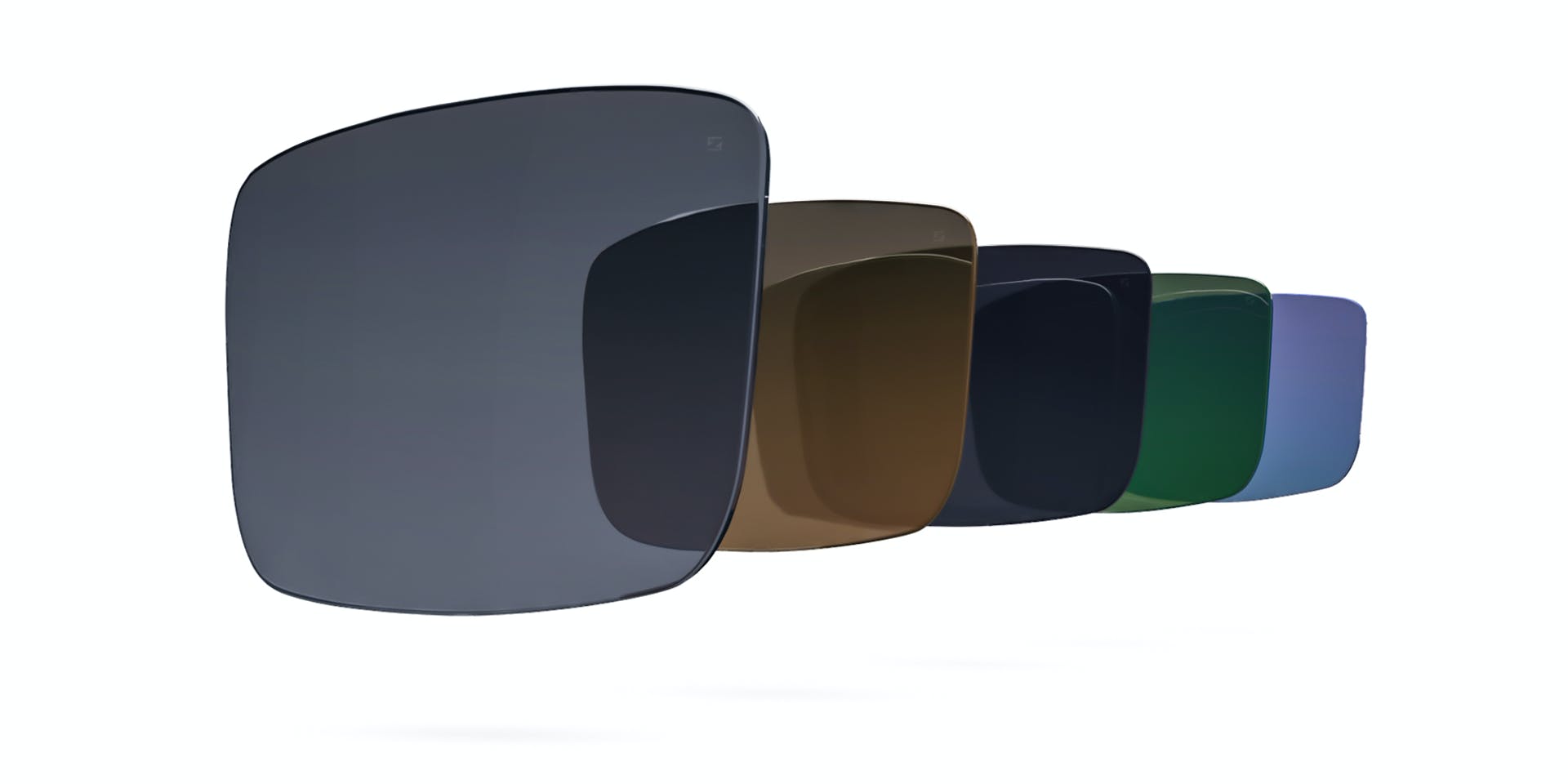 How to choose the most suitable color for yourself?
Grey
Grey is the most popular choice among the colors.
Allows colors to be seen in their natural state
Reduce glare
Suitable any outdoor activities and sports
The new color available, Extra Grey, is another choice in grey. As compared to Grey, Extra Grey turns darker when exposed to UV light, hence reducing the amount of glare from the sunlight. However, the lenses for Extra Grey will have a faint grey tint even after the lenses have fully cleared up indoors.
Brown
Brown is also one of the more popular choices among the colors.
Enhance contrast especially against blue and green background (Sky and Grass)
Improves depth perception
Suitable for sports such as golf, water sports
Pioneer (Green)
Enhance contrast
Reduce glare and brighten shadows
Suitable for sports such as tennis
Blue
Enhance contour
Improves color perception
Reduce glare from snow, water and sun
Fashionable
Suitable for sports such as snowboarding
Blue tint can cause color distortions, hence it is not recommended to use for driving.
The choice of color mainly depends on your preference and the sports you are engaged in. Many will choose grey or brown because they are the most common photochromatic color and easy to match the frames they have chosen. If you find that your current lenses are not turning dark enough outdoors, you still find the sunlight glaring, you can go for ZEISS Photofusion Extra Grey. If you want something different, more fashionable, you can go for ZEISS Photofusion Pioneer Green or Blue. You can go for Brown if you have been using Grey and wants to change to a different yet conventional color.
How dark can the color turn
In sunlight, a chemical reaction triggers the unique and highly photosensitive molecules in the lens, hence, darkening the lens.
The tint intensity depends on the amount of UV ray and the temperature. The higher the amount of UV rays or the lower the temperature, the darker the Photofusion lenses will turn. In Singapore, it might not turn as dark as a pair of sunglasses. However, in foreign cold countries, it can turn even darker than sunglasses.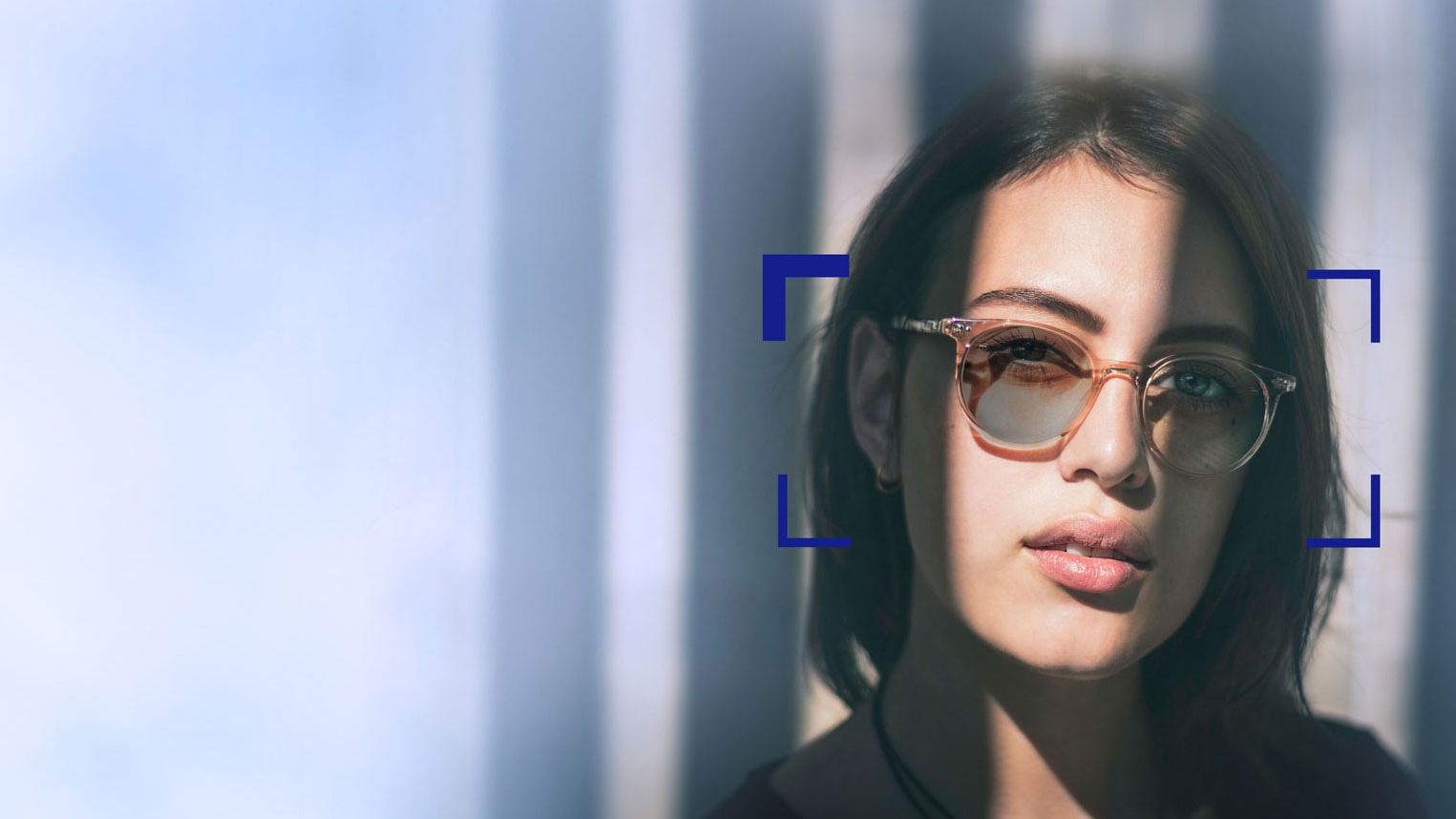 ZEISS AdaptiveSun
For people who spend most of their time outdoors and hardly remove their sunglasses, AdaptiveSun may be suitable for you. When wearing sunglasses, some struggle to see clearly because of constantly changing light conditions. The lenses can either be too dark in shady areas or too light in bright sunlight. We then tend to take them off, leaving our eyes unprotected.

Benefits of ZEISS AdpativeSun
ZEISS AdapativeSun are smart sunglasses lenses that adapt to changing light. They are tinted just like a pair of sunglasses and turn dark to darker. When exposed to UV light, they will turn even darker to provide:
Glare protection
Full UV protection
Darken by up to 97% absorption in just 18 to 35 seconds
ZEISS AdaptiveSun comes in Grey, Brown, Pioneer and Blue. Other than solid tints, they also comes in gradient tints and polarized tints.
The image below shows ZEISS AdaptiveSun lenses before and after being exposed to UV lights.

ZEISS Polarized Glasses
Glare can be reflected off transparent or wet surface, not only can it be annoying and uncomfortable, it can also affect your vision.
With ZEISS Polarized glasses, it:
Significantly reduced reflections and perceived glare
Improve overall perceived quality of vision
There are usually more reflections and glare from water surfaces such as sea and snow. Hence, people who spend time at the sea or snow, engaged in water sports can benefit from ZEISS Polarised glasses.
The image below shows ZEISS AdaptiveSun in polarized, solid and gradient tints.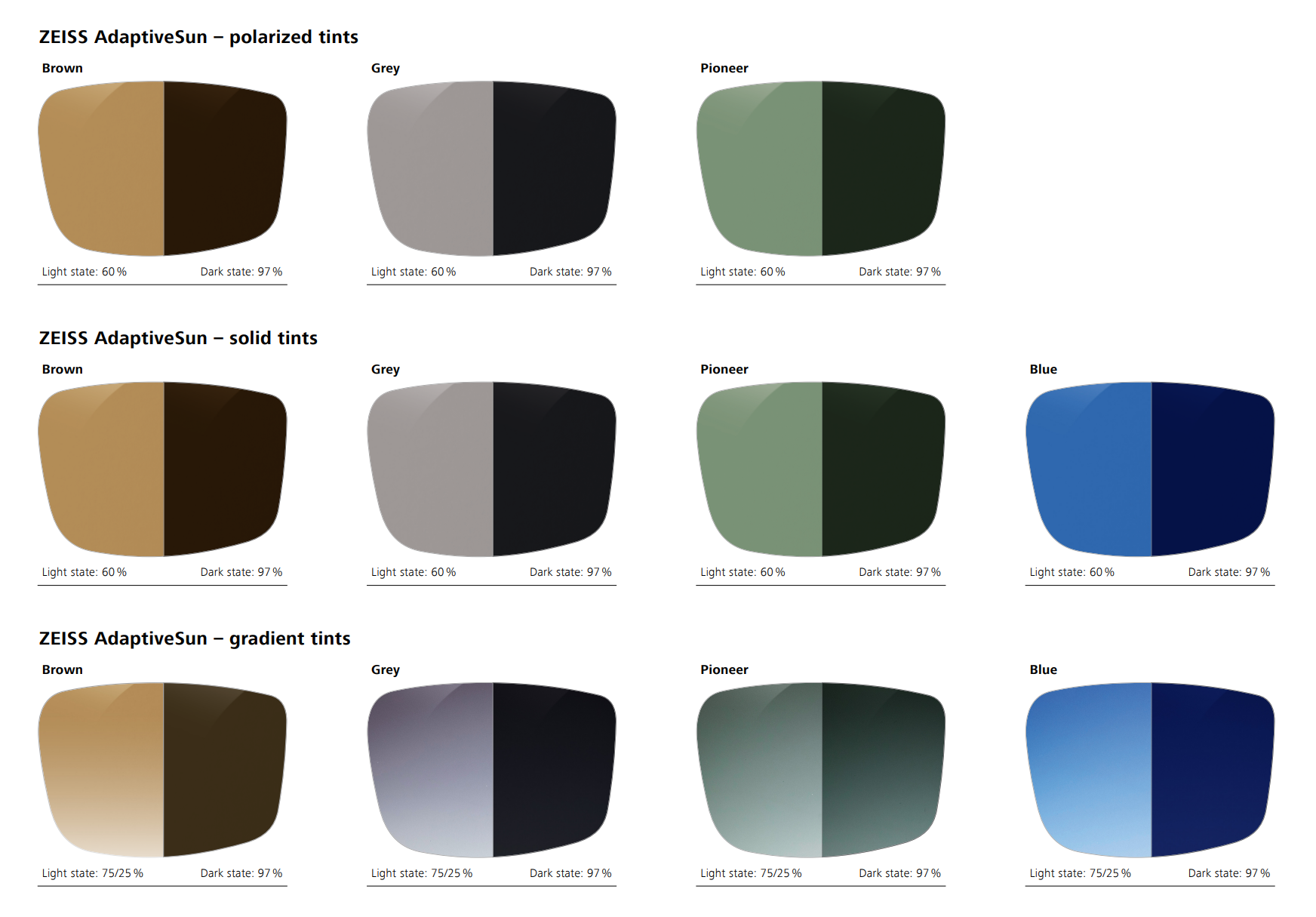 ZEISS Photofusion and AdaptiveSun @ Evershine Optical
At Evershine Optical, we have samples of the different ZEISS Photofusion and AdaptiveSun colors. You will be able to see how it looks like when it's clear and after it darkens. Visit us to look at the demo lenses!
For limited time only, we will be offering 50% off ZEISS Photofusion lenses with selected ZEISS RX lenses. Book an appointment with us or WhatsApp us at +6588461234 to find out more.
References
ZEISS AdaptiveSun
ZEISS Photofusion