Optometrist or Optician in optical shops

Since 1 Jan 2008, under the Optometrists & Opticians Act, any person who is keen to practice optometry/opticianry in Singapore must possess a valid registration certificate and practising certificate and be registered with the Optometrists and Opticians Board.
There are 2 types of registered practitioner in an optical shop in Singapore – optician and / or optometrist. Below is the definition given by OOB ( Optometrist and Opticians Board ) for optometrist and optician.
Optometrists are primary eye care providers who specialize in performing eye examinations. Through the tests conducted, they can detect eye-infections and common eye diseases such as cataract, glaucoma, diabetic retinopathy, age-related macular degeneration, most of which may be treatable if detected early.
Opticians: There are 3 different categories of opticians in Singapore (more information available here). All of them are equipped with the skills to dispense and fit glasses based on prescriptions from optometrists or ophthalmologists1.
 No optician, even if qualified to perform refraction, shall refract any child below 8 years old. (note: 1.2.4. from OOB code of professional conduct) 
Information on general use of equipment
Subjective Refraction
It is a type of visual test carried out to determine the degree of one's short-sightedness or long-sightedness. Any patient who is undergoing subjective refraction will normally be presented with test lenses of different optical powers or focal lengths before being prescribed the most suitable lenses.
Fundus photography
It is an advanced digital retina photography capturing an image of the back of the eye. It is often used to inspect anomalies and to monitor progression of eye diseases such as macular degeneration, retina neoplasms, choroid disturbances and diabetic retinopathy.
Non-contact Tonometer (NCT)
 A diagnostic tool to measure the intraocular pressure (IOP) inside a patient's eyes to determine patient's risk for developing glaucoma, a disease that causes blindness by damaging the nerve in the back of the eye. The NCT uses small puff of air to flatten the cornea in a non-invasive way to check for high IOP.
Every shop in Singapore will have at least an optician to dispense and fit glasses but not all shops in Singapore have an optometrist. How do you know the shop you are visiting has an optometrist to serve you ?  The decal below will help you identify the person who is serving you if he/she is an optician or an optometrist.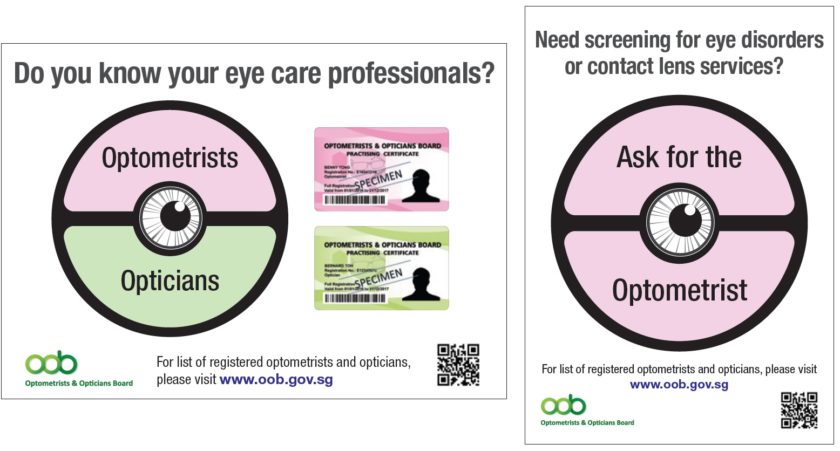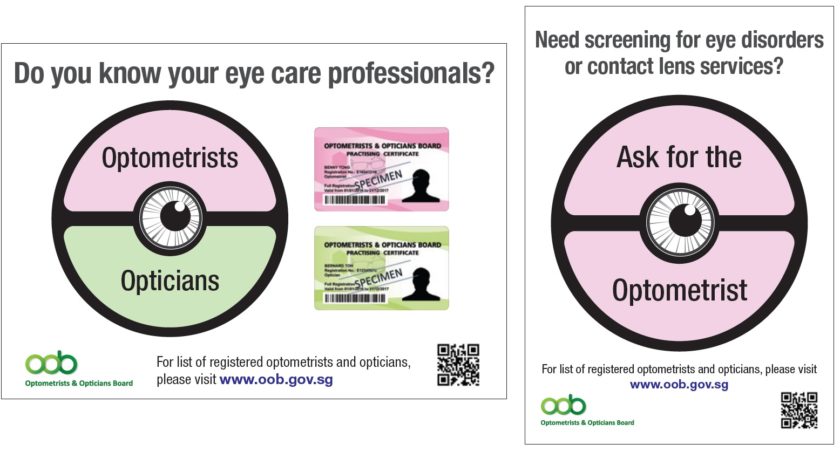 If you have no idea if the shop you are visiting provide the services that you are looking for, the OOB also has a list of shop names and the services that they provide for your easy reference before you visit an optical shop.
Optical services listing (by shop name) http://www.healthprofessionals.gov.sg/docs/librariesprovider6/announcements/by-shop-name.pdf
Optical services listing (by postal code) http://www.healthprofessionals.gov.sg/docs/librariesprovider6/default-document-library/by-postal.pdf
From the list, you can see that Evershine Optical provides the following services : Dispensing of spectacles, Refraction, Contact Lenses, Non-contact tonometer (NCT), Fundus Camera  . We use the icare Pro for NCT as it is highly accurate and painless in measuring the eye pressure for glaucoma detection. We are one of the few optical shops, if not the only optical shop in Toa Payoh to provide all the above services for a more complete eye exam when you visit us.

See the range of service that we provide.  click here
For more information, please refer to OOB website .