Why is i.Scription® technology particularly beneficial in low light conditions?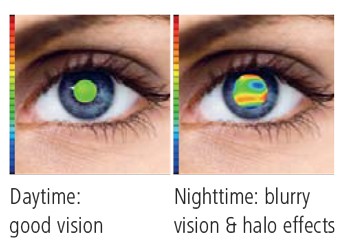 Conventional manifest refraction is performed in well illuminated rooms, leading to prescription values that work well in daylight situations. However, as the pupil enlarges in low light situations, the peripheral aberrations of the eye can lead to refractive shifts that make the conventional prescription no longer valid. i.Scription® technology is able to combine the information about peripheral aberrations provided by i.Profiler® plus together with manifest refraction, resulting in an optimized prescription to provide better day and night vision. http://goo.gl/6zfYgv
Testimonial by an I.scription wearer.
I had an AMAZING experience today. I'm not really sure how to explain it. But, I am going to try.
I ordered new specs a couple of weeks ago. My doc and optician have moved to a fairly new technology in lenses called iScription by Zeiss.
Essentially, a machine maps your eye so that the lens can be ground in a new way to provide micro adjustments and will offer: Better night/low light vision, better color vision, better visual contrast.
Anyone who knows me knows that ANY improvement here would be awesome, so I bit, I was all in. I went with this lens and the latest in progressive width and coatings (anti-glare, etc).
As I sit down with John (my guy) he says, now I need to say, it may be an adjustment for you with these new lenses. We get mostly positive feedback, but, just know, you may need time to adjust. He puts them on me.
Immediately, I mean IMMEDIATELY, my eyes well up with tears, big crocodile tears. John looks at me a little worried. I gulp and try to control myself, my skin is vibrating, I swear. John, I say, I don't think I have EVER seen this clearly in my ENTIRE life. I can hardly breathe. People in the office are staring at me now, an older gentleman is grinning at me.
I am just looking around the store at EVERYTHING. I can't believe it. I almost have no words for what this is. Better color, better contrast, more detail, more definition. This MUST be HD? I have no reference to go by.
I called my mom and dad as soon as I left the office. Mama, I said, this has to be what I felt like at one year old when I got my first pair and I could see for the first time, started crying AGAIN. She got it immediately. She reminded me of that day and for the first time when we got home, I didn't crawl up the stairs into the house, I actually looked at them and walked up. I feel like that mama, I feel like THAT.
My great grandfather was a lens maker, he made telescopes. I wish I could share this with him. Technology is a miracle. Thank you Carl Zeiss for this amazing invention.
Is I.scription suitable for everyone ?
I.scription may not be suitable or beneficial for everyone. In order to find out if you are suitable for I.scription, at Evershine Optical, we will do an assessment for you with the Zeiss I.profiler plus . After taking the measurements and going through an eye consultation with our consultant optometrists, we can demonstrate to you in real time the benefits of I.scription technology .
This real time demonstration is only available at Evershine Optical.